Dare to be different with creative design and a combination of unexpected flavours for a wedding cake guests will remember. As talented cake decorators continue to push the limits with decadent wedding designs and mouthwatering flavour combinations, would-be brides are left with tough task… choosing the right wedding cake for their special day. Some of our favourite cake decorators take the hard work out of the planning – take a look at these stunning cakes that are not only creative but taste good too!
 Related article: Thinking of a cheese cake? We chatted to Narelle Tognini at The Cheese Bar about how to create the ultimate tower of cheese.
The Design
Brisbane-based cake decorator, Vas from Frosted Indulgence, says good design makes all the difference."Don't be afraid to use colours and textured finishes to create impact – both on the outside of the cake and on the inside," she says. "One of my brides recently opted for an elegant wedding cake with gold details and piping, but inside was a brightly layered cake. It not only surprised the guests but also reflected the couple's fun personalities!"
The Flavours
Of course, you might have the most beautiful cake in the world, but it's nothing without inner decadence. Chocolate mud and its Southern cousin red velvet have been done to delicious death, so what's the new take on these old favourites? "My ultimate favourite is my gingerbread stout cake with a spiced buttercream filling," says Vas.
Gillian's palette is a bit more unexpected, and a flick through her recipe box reveals flavour combinations such as vanilla and mandarin, strawberries and elderflower, dark chocolate and violet, and buttermilk and rose. With flavour inspiration straight from Gillian's bang on-trend organic garden, we think she's onto a winner.
Frosted Indulgence
If you prefer something a bit more understated why not give a towering naked cake or traditional fondant variety a facelift by incorporating a few of-the-moment trends? Geometric fondant, ombre cakes that descend in colour from top tier to bottom tier, or edible blooms are all bound to impress. Cake decorator Gillian from Gillian Bell Cake is famed for her floral designs, but in a nod toward sustainability her edible blooms are not the sugar variety, but a selection of delicate edible flowers that she grows in her own backyard."My cakes are often simply decorated with edible flowers that I grow organically," she explains.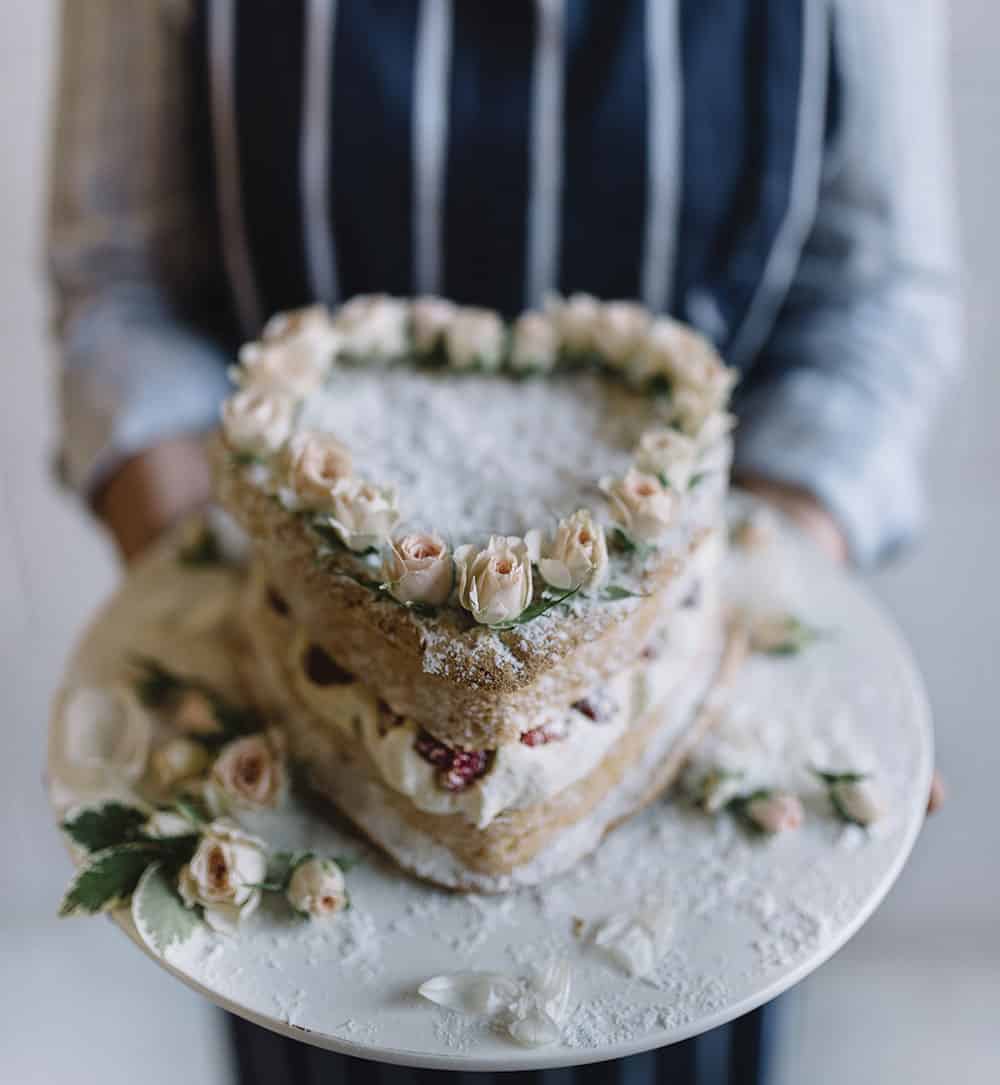 Heart shaped naked wedding cake by Gillian Bell
Buttermilk and rose wedding cake by Gillian Bell
Cake decorator Rachael Teufel of US-based bespoke cakerie Intricate Icings made us all take note when she unveiled a jewel-inspired geode cake, which was quickly emulated by just about every cake decorator on the planet; just a few months later Russian pastry artist Olga Noskova caused a stir with her shiny mirror cake. Nailing the design, it seems, is the difference between going viral and being just another cake on the chopping block.
Find your local cake expert in our cake directory.